Reunion News

Newsletter No. 5 July 15, 2001
Also online at http://mpassero.tripod.com/reunion/index.htm
Mark your calendars for August 4th, 2001 when we all converge on Cincinnati Ohio for a picnic to end all picnics!
Summary:
The family reunion occurs all week from July 30th until August 5th. Everyone is invited to participate in any or all of the events.
The big event is the August 4th picnic, which will be at Woodland Mound Park. We have reserved the Fox Ridge shelter from 10 am until dark.

Contact Info:
Fran Passerotti franpasserotti@hotmail.com, (936) 568-9474
At Extended StayAmerica: (513) 793-6750
1110 Burt Drive
Nacogdoches, TX 75965
Mike Passerotti mikepasserotti@hotmail.com

| | |
| --- | --- |
| Appartment | New Home |
| (513) 688-7865 | (513) 505-6545 |
| 172 Cardinal Drive | 1558 Stableview Circle |
| Cincinnati, OH 45244 | Maineville, OH 45039 |

Additional information on the Hamilton County Parks can be found online at http://www.hamiltoncountyparks.org/.
Additional information on the Ohio State Parks can be found online at http://www.ohioparks.net/.
Picnic
Each family is asked to bring your own hot dogs or hamburger to grill AND a dish to share. Those traveling might want to stop by the grocery store, bakery or deli to pick something up.
Each family of four or more is asked to bring a package of buns.
Each family is asked to bring individual-serving-sizes of canned/bottled drinks. Ice will be provided.

Plan B for picnic
Meet at Passerottis' new house on 1558 Stableview Circle, Maineville. (513) 505-6545
Reunion Week Activities Suggestions
King's Island
Good News! I have discount tickets that bring the price down to $27.25 per adult.

Those going to K. I. for sure:
Edi and family (6 or 7 people)
Gini, Andrew, Anthony
Ron and Sandy Yafanaro
Susi, Kelley, Marieann, Emma, Genelle
Kathleen and family (total 5 people)
Clint
Liz
Ed and Julie Shaffer
Mike, Alicia
Lori's family (4 or 5)
Definitely not going:
Dad, Mom
Audrey and Raymond Flickinger

Kings Island opens at 10 am. The best place to meet for coupon exchange and to connect with everyone else is outside the main entrance at the group sales booth. If we meet there at opening time, then we'll all save money. If there is any reason that you won't be there at 10 am, then call me on my cell phone from a phone booth and we can arrange to meet you at the gate. (513) 505-6545

Disk (Frisbee) Golf
I played the Woodland Mound golf course and it is more fun than a barrel of monkeys.
Where to find what in Cincinnati
Cincinnati Map on Mapquest http://www.mapquest.com

The map below contains hotlinks around the push pins to bring up maps with further details. The driving instructions are related to the closest major highway. If you need further instructions call Mike Passerotti. If you are staying somewhere that isn't marked on the map, let Mike know and he'll mark your location too.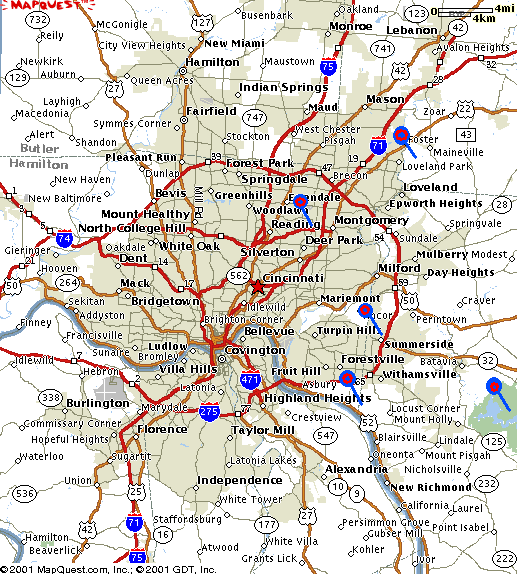 If you need further directions call Mike Passerotti.
Biographical Sketches
Who's Who of the reunion. Some general questions are being sent to the list of attendees and non-attendees to bring us together in a familiar way. After all, we're family.

Kathleen Leahy (Russian)
Where do you live now? Charlotte, NC
Who is your immediate family? Jennafer Cribbs (15yrs), Jerikah Cribbs (11yrs), Monica Skipper (3yrs) and Anthony "Skip" Skipper - partner (42yrs)...
Other immediate family: Fran (mom) John (step dad), Sisters: Gini, Susi; Half Sister: Liz; Half Brother: Clint; Step Sister: Lori; Step Brother: Mike Can anyone ever figure all that out? Basically we are all brothers and sisters What is your connection to the reunion attendees? Fran's 3rd child (youngest from first marriage)
Do you have a short story or anecdote to tell? You have to like yourself before you can like others or they like you.... Life is too short to be unhappy - live, love, laugh

Can't wait to see everyone....Kathleen

Conclusion
If the cost of a place to stay is holding you back, then please call Mike Passerotti. We can arrange for a place for you since we will have a house and an apartment at the time of the picnic.